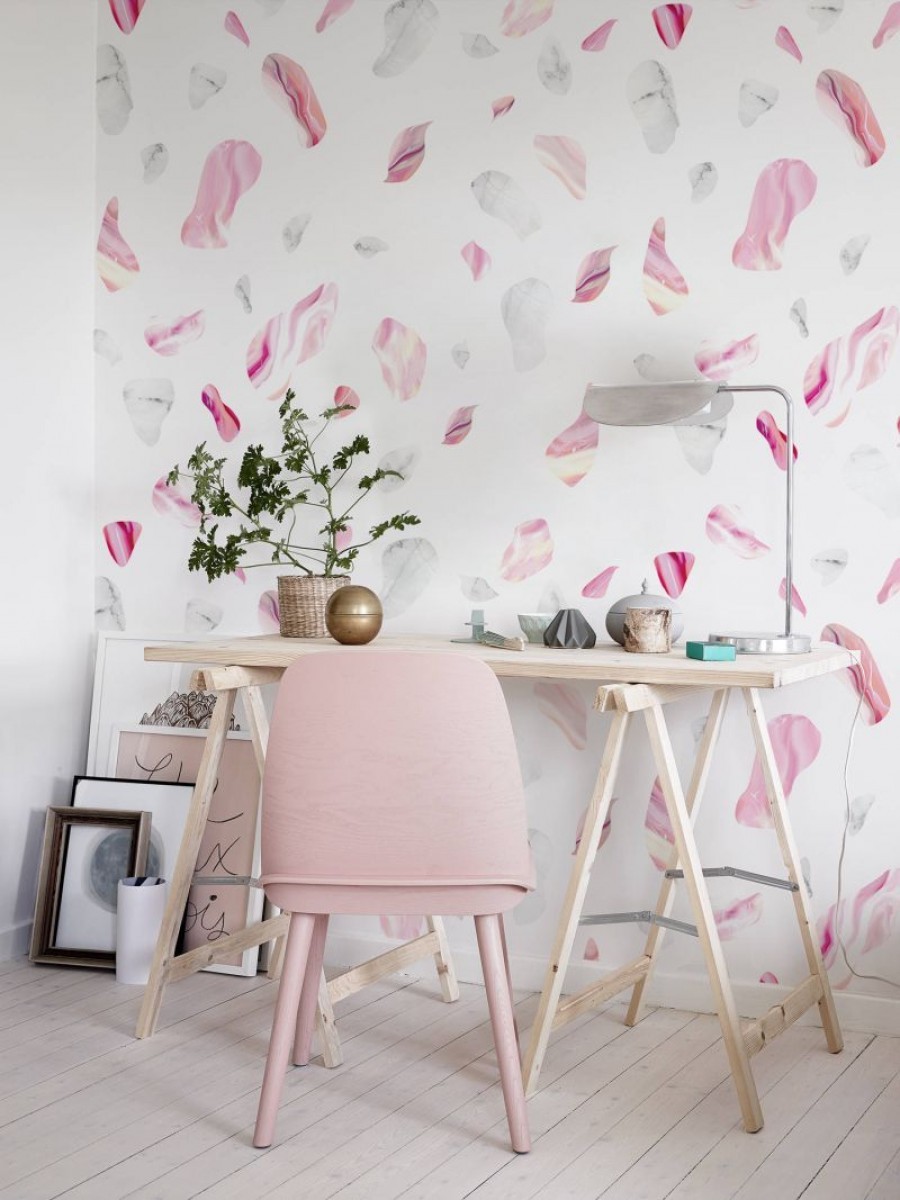 WHAT ARE TOP TRENDING WALL DESIGNS RIGHT NOW?
Looking for some top-trending wallpaper designs or just wanting to sneak some pink color into your home? Both reasons are good to check out what I have prepared for you! Introducing the pink colors by using reusable wall murals is the best way possible.

1. MARBLE CIRCLES REMOVABLE WALLPAPER
Some people say you can only use up to 3 colors. In modern designing it's a thing, so I've prepared a removable wall mural with just two, delicate colors (three, if you coun't white background). Pink and grey colors match each other perfectly, especially while they are so delicate. The grey is actually not a full colors, but it has a few shades, which gives that "marble" feeling. Circles remind of bubbles and give us a feeling of lightness and freedom.

2. MARBLE ROCKS REMOVABLE WALLPAPER
Peel&Stick wallpaper dedicated for those who love the pink touch in interiors. No need for excessive amount of that meaningful color. Delicate but visible and vivid, that's how it is supposed to be. Subtle pink and grey petals are one of the best choices for women, girl's and teenagers. Looks like it clears the mind and fill it with many creative ideas.

3. GRANITE REMOVABLE WALLPAPER
Colours and structure of stone, just like granite. This removable wallpaper resembles in really good. Designs gives a feeling of a brush touching the canvas with colorful paint. Thanks to many colors used, you will have no problems to match other items in the room.

4. PASTEL MARBLE REMOVABLE WALLPAPER
If you don't like small or minimalistic patterns, you might rather want to use this wallpaper design. It's a really interesting thing to have on your walls - circles that overlap and create a scale pattern. It looks like a real marble thanks to highest-quality print. As all the others, it's delicate and subtle. But first and foremost - it's on my list of top-trending wall murals.

Removable wall designs are great for every room. Digitally printed wallpapers on innovative peel&stick material sticks to any flat surface. It's easy to install it and remove it wherever you want. Installed correctly - might be used multiple times!